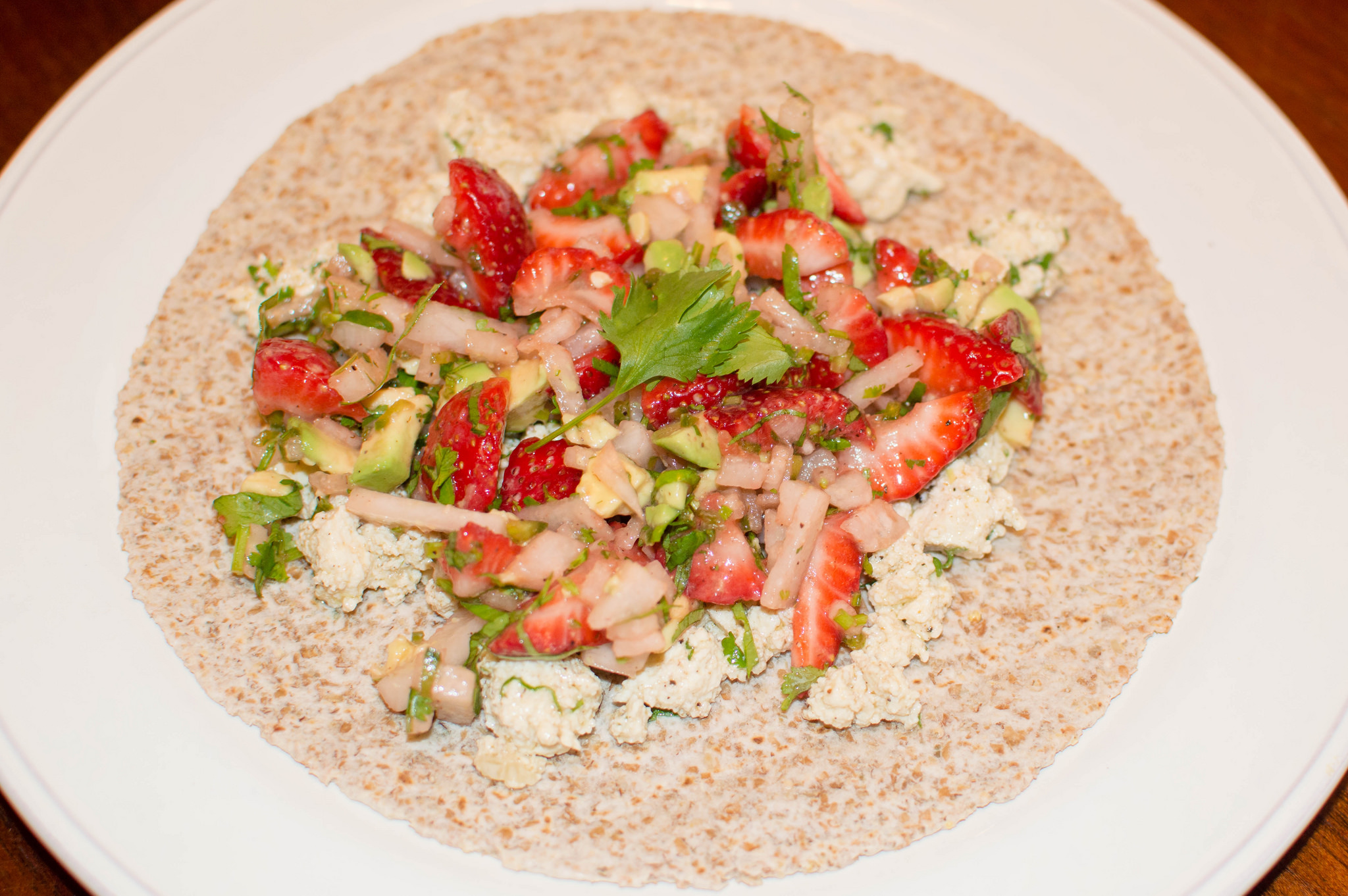 After eight days of nothing but juice, my husband and I finally broke fast.
It was nice to finally bite into something again! To celebrate, we had a raw dish – Strawberry, jicama and avocado salad with cilantro tofu relish – except I couldn't find jimaca, so I used daikon instead. Yum! The recipe came from Plum: Gratifying Vegan Dishes from Seattle's Plum Bistro (you can read my book review here). I was a little concerned that I wouldn't be able to find any ripe strawberries – I mean, it is still winter. But as if to reward me for a job well done, my local co-op not only had juicy, ripe organic strawberries – but they were on sale! I took it as a sign and snapped up a large container full.
Oh, how I love strawberries!
Ingredients:
For the strawberry salad mixture
1 lb strawberries
8 oz. Jicama (or daikon)
1/2 cup cilantro, cut into strips
1 tsp minced jalepeno
Juice of 1 lime
1 avocado chopped
Cumin
Paprika
Sprouted grain tortillas (optional)
For the cilantro tofu relish
1 package silken firm tofu (Island Springs or any national tofu brand)
1 tsp ground coriander
2 cloves chopped garlic
1 tsp salt
1/4 cup olive oil
2 tsp coconut sugar
2 tsp fresh lime juice
1/4 cup chipped cilantro
Directions:
For the strawberry salad mixture, mix all ingredients except for cumin and paprika, set aside.
For the cilantro tofu relish, crumble the tofu into pieces in a large bowl. Add the the coriander, garlic, salt, olive oil, coconut sugar, lime juice and cilantro. Mix into a relish like consistency.
If using, place one tortilla on plate. Add a couple spoonfuls of cilantro tofu relish. Top with strawberry salad mixture and sprinkle with cumin and paprika. Garnish with cilantro and lime wedges.
Enjoy!