It's been almost 6 whole months since we last broke out the grill. And our family loves grilling food. It's simple, tasty and quicker than trying to cook in my tiny kitchen.
To celebrate the start of grilling season, we decided to make lamb burgers. Not just your normal lamb burgers, I'm talking about lamb burgers with blue cheese, fresh mint, garlic sauce and spices. Mmmmmmm.
If you've read my blog at all, you know my husband and I don't consume much meat. We probably consume more tofu and seitan per pound than chicken and lamb (or all meat combined for that matter).
Lately though, I've been rethinking my diet choices. for the past few years my husband and I have eliminated all fast food, 95% of processed foods and switched to almost entirely organic. Generally, we eat a plant-based, mostly raw, super-food rich diet. Yet we don't feel 100%.
I haven't been able to put my finger on it. What could be the root cause? If we are eating so healthy, why oh why do I find my memory slipping (at 30!) my stamina not keeping up and overall just not feeling, how do I say it…well? Not to mention my weight has been slowly creeping up, despite a very low-fat diet. My husband has reported similar feelings too. So, when I found myself reading an article in Acres U.S.A. Interviewing Dr. Natasha Campbell-McBride talking about the GAPS diet I became intrigued. Is what I'm missing in my diet traditional foods such as bone broth and home-made ferments? Has my consumption of tofu and grain-based proteins been the best choice for my health? Has my preference for raw kale and other veggies vs. cooked taxed my digestive system?
I don't know. But the questions are worth further investigating. I'm currently reading Dr. Campbell-McBride's book, Gut and Phycology Syndrome. While I'm only about a quarter of the way through, much of what I've read so far has resonated with some long-forgotten women's intuition about diet (or something like that).
So, my family has decided to give the GAPS diet a try. During the next few weeks we will transition over, finishing our pantry stock of rice and oatmeal and cleaning the fridge of any tofu. I hate to waste money, so I'm not willing to toss organic food, but as we cycle through our supplies I'm simply not replacing them. Instead, I'm learning to select weekly menus focused on gut-friendly ferments, stocks, cooked veggies and other foods.
These lamb burgers are a test of this new diet. All I can say is that they were simply delicious! With grilled eggplant and zucchini, topped with yogurt sauce seasoned with olive oil, truffle salt and fresh herbs dinner was amazing. The whole family enjoyed it.
The yogurt sauce and grilled vegetables that accompanied the burgers are from the Heal Your Gut Cookbook, but I added some truffle salt to the yogurt sauce for exotic flavor.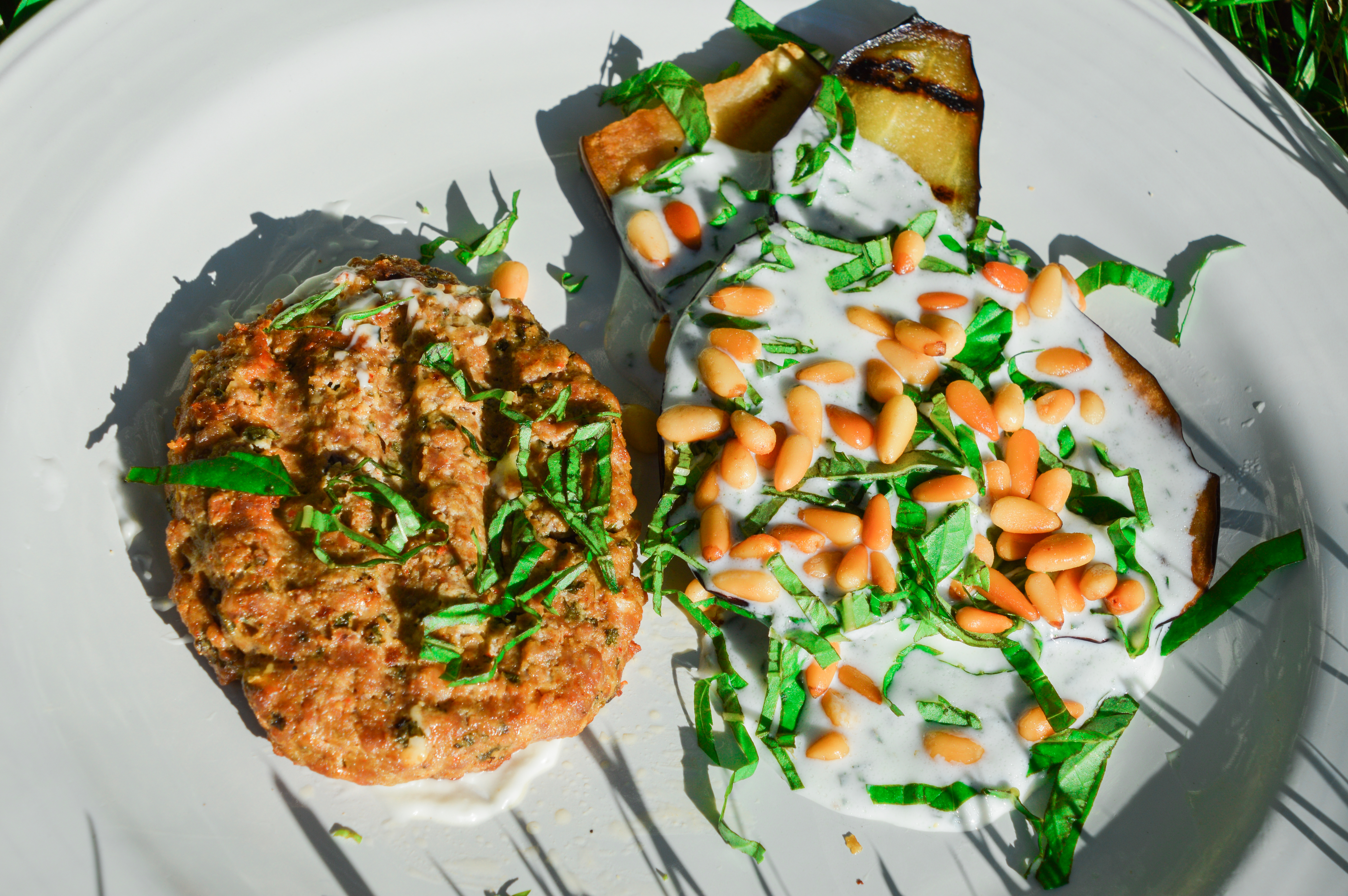 Spring Lamb Burgers
Ingredients:
1 1/2 – 2 lbs fresh ground lamb
2 whole eggs
1/3 cup crumbled blue cheese
1 Tbsp Harissa seasoning
3 Tbsp Karam's garlic sauce (otherwise, 5 minced garlic cloves with olive oil)
1/2 cup chopped fresh mint
Directions:
Prepare the grill for cooking
Combine all ingredients in a large bowl
Shape mixture into patties
Pre-heat grill
Freeze for 15 – 30 minutes to firm up the patties
Cook until medium done (or personal preference)
Grilled Eggplant (and zucchini)
Ingredients:
1-2 Eggplant, cut into 1/2 inch strips
2-3 Zucchini cut into 1/3 inch strips
2 Tbsp coconut oil
Himalayan salt
1/4 toasted pine nuts
2 Tbsp shredded fresh basil
Directions:
Coat both sides of veggies with coconut oil
Lightly sprinkle with salt
Grill about 3 minutes each side
Yogurt Sauce
 1 1/2 cup high quality yogurt
1/3 cup finely chopped herbs (we used thyme and rosemary)
1 Tbsp olive oil
1/2 tsp truffle salt
To Serve
Arrange lamb burger patty and veggies on individual plates. Top veggies with yogurt sauce, pine nuts and basil. Add a dollop of garlic sauce next to lamb patty (optional). Enjoy!