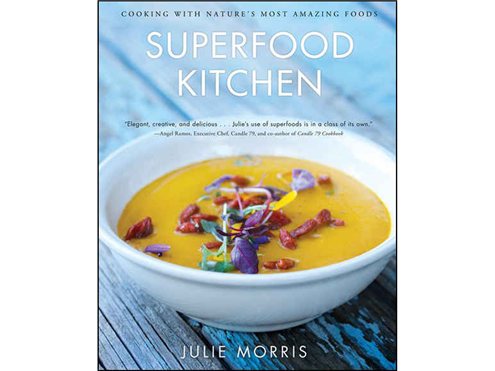 This is not exactly a book review; cook books don't typically have a plot or characters involved. But I wanted to share some of the books that I find myself going back to over and over again for great recipes or for reference. Superfood Kitchen is one of them.
Written by Julie Morris, Superfood Kitchen has proved a staple on my cookbook shelf. The fresh, plant-based recipes incorporate, of course, so called "superfoods" – foods that exhibit exceptionally high levels of nutrients. But beyond the use of these special ingredients (which are becoming more and more readily available in stores and online) the recipes are fresh, bright and flavorful.
Two recipes that I go back to over and over again are not necessarily the healthiest in the book, but they fill a much needed gap in our recipe repertoire: deserts. The sacha inchi buckeyes and maca macaroons are "desert" recipes that, while not necessarily low fat, are at least not stuffed full of butter, sugar and empty calories you typically find in your normal snicker doodle cookie. My husband loves the sacha inchi buckeyes, especially with black coffee in the morning, while I adore the maca macaroons. Both recipes feature a superfood. Sacha inchi's are seeds have a somewhat peanut taste to them (more oily though) and maca powder (from the maca root found in Peru) has a sort of malty-caramely flavor going on. The book explains the benefits of both of these ingredients and many others.
There are other great recipes too, including a vegan lasagne, that while somewhat challenging to make, is absolutely to die for (even non-lasagna loving friends gave two thumbs up).
Julie Morris has also penned Superfood Smoothies and Superfood Juices, both of which I also have and use regularly. These books, with their wonderfully flavorful recipes, clear instructions and good use of photos will remain on my books shelf for many years to come.